This article originally appeared in the March/April, 2018 issue of PARCEL.
It is common knowledge that measurement is the key to effective management. This is especially true for shippers attempting to manage their parcel programs and better control their costs. In fact, a recent survey conducted by Veraction to assess the challenges facing shippers today as they work toward turning their raw parcel data into meaningful and actionable insights highlighted just how important (and difficult) effective measurement and analysis of parcel spending can be. Consider the following findings:
Metrics and Key Performance Indicators (KPIs) are critical to controlling costs – Nearly two-thirds of all respondents reported that they review cost metrics on either a daily or weekly basis.
Producing metrics and KPIs are resource-intensive – Thirty-three percent of respondents reported that they utilize two or more resources to produce metrics. Nearly two-thirds of respondents reported dedicating at least one resource to this task.
Producing metrics and KPIs are time-intensive – Nearly half of all respondents reported that they spend more than 10 hours per week generating and analyzing metrics.
Identifying variances in spending is difficult – Almost 70% of respondents require five or more hours per week identifying and understanding variances in their spending against either planned or historical performance. Over 10% of respondents require more than 12 hours per week.
Data analysis requires multiple sources – Over 75% of respondents are dependent on more than two data sources for their parcel cost analysis
The findings reinforce much of the conventional wisdom that exists today surrounding transportation spend analysis – it is difficult and resource-intensive. Perhaps more importantly, the survey highlights just how inefficient the process of converting data into actionable information is and how the analysis shippers leverage in their daily decision making is most likely "stale" and not current. In summary, many shippers spend considerable time, money, and resources to produce insights that may be too "old" to make any real difference in their performance.
To get better at managing parcel costs, shippers need to improve their analysis capabilities. The entire process of capturing, cleansing, producing, reviewing, and analyzing metrics must become more timely and more efficient to create the positive impacts required in a competitive market. Today, for many shippers, the process is burdensome and produces inferior results.
Spend analysis is, at its essence, a continuous improvement process. It's all about leveraging data to identify the current state of performance, comparing it to an improved or target state, and developing an action plan to drive improvement. Data and the metrics they produce is critical to this process. Selecting the right measurements and producing them regularly is critical.
Evaluating Your Approach
Every shipper should continually evaluate their approach when it comes to leveraging analytics and performing analysis of their parcel spending. Two key areas to focus on during any review include the set of tools and methods you utilize as well as the actual metrics you leverage in your analysis.
In terms of tools and methods, is your process based entirely on the use of simple descriptive analytics, which are retrospective in nature (what happened?), or are you combining descriptive data with predictive or even prescriptive analytics to look forward and improve your ability to execute? And just as importantly, how quickly are you able to transform data into insights and then into action? Best-in-class organizations can determine what happened and what they can do about it rapidly – and frequently.
There are three types of analytic capabilities in the market today. Descriptive analytics help shippers quickly assess what happened in the past in terms of their parcel spending – cost, carriers, type of service, etc. These represent critical but basic analytic capabilities that any shipper should possess. Shippers possessing more mature capabilities will use predictive and prescriptive analytics as well. Predicative capabilities assess what could happen in the future and identify conditions that either prevent or enable improvement. Prescriptive analytics can leverage all available information and highlight specific strategies or actions which can then be pursued. When evaluating your capabilities, assess them in regard to being able to produce descriptive, predictive and prescriptive analysis regularly.
While these analytic capabilities are important, a consistent set of metrics is equally important. Best in class shippers are extremely effective at leveraging Key Performance Indicators (KPIs) to manage their spending. KPIs are typically comprised of a number of discrete metrics and provide a "gauge-like" assessment of your spending similar to the feedback you receive from your automobile's dashboard. They highlight both opportunities and problems that require immediate attention. They provide a way of measuring performance without getting caught up in the abundance of detailed data that is associated with parcel spending.
Two common KPIs used for measuring parcel performance are cost per shipment and cost per unit weight. As a shipper, delivering more product is great but, increasing volumes at a higher cost per shipment or unit weight is undesirable. While there are other important KPIs that should be considered, cost per shipment and/or unit weight are perhaps the most meaningful measurements for managing costs and every shipper should thoroughly understand what drives them on an ongoing basis.
KPIs are often derived by aggregating a number of other detailed measurements. In the case of cost per unit weight, these detailed data elements could be related to the type of parcel (air, ground, or express) as well as more granular elements such as parcel carrier, contracted net rate, service level, package type, zone, fuel surcharge, or a myriad of non-fuel accessorial charges that are classified as additional charges. All of these data elements represent influencing factors that can increase the KPI (typically a bad thing) or decrease it (typically, a good thing) in value. Understanding the exact data elements that drive these KPIs and the weight of their influence is the key to being able to make specific rapid improvements. As an example, there are many influencers that can contribute to the cost per shipment KPI as depicted below: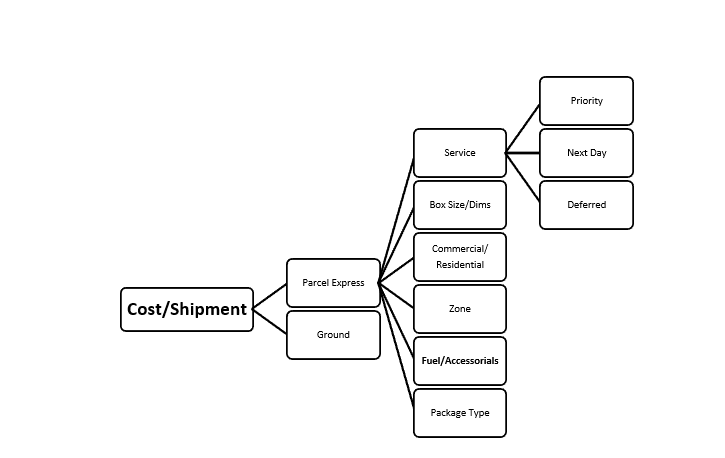 Determining the values of your KPIs and understanding which factors are contributing is essential, but being able to perform this analysis quickly and on an ongoing basis in order to take action against any negative variance that impacts your costs is absolutely critical. Moreover, it is important to understand the impact of continual changes in your parcel network as you negotiate contracts, adjust your service levels to meet customer demand, modify your design to reduce distance, or optimize your packaging to reduce dimension. The frequency of this analysis is key as well to ensure that modifications can be made in a timely manner. Adjustments can be made to mitigate negative impacts early if proper monitoring of actual to planned KPI levels is done regularly and in a disciplined manner.
Final Challenge – Data
A final challenge facing shippers today — and perhaps the single biggest hurdle to performing best-in-class analysis — is data quality. Data is voluminous and factors such as global coverage, modes, shipping locations, number of suppliers, and even sub-KPI influencers such as product level cost (SKU level metrics) all contribute to the difficulty of capturing quality data. Consolidating this data is often easier than ensuring that the data is normalized in order to eliminate the "noise" that is often inherent in the transportation data. For instance, the transformation of something seemingly simple like a supplier's name, a store location, or customer information is often a big contributor to dirty data and can be difficult to manage. Additionally, data from external sources such as carrier services, charges, and delivery conditions that are captured from invoices and status events can be equally hard to control. While ERP platforms and TMS capabilities promote more disciplined execution processes, they often don't help with data normalization across multiple platforms within an enterprise. Implementing a sound strategy to complete this step is fundamental to a successful deployment of business analytics.
While managing a large parcel spend can be daunting in a rapidly changing and competitive market, having the proper tools and information can make the management of this key cost category much more effective and efficient. It is well worth the effort to continually evaluate your KPI and analytic approach in an effort to drive continued improvement. In our work with many shippers, we have found that the best programs typically execute the following actions on a continual basis:
Ensuring all data sources are consolidated into a central repository
Cleansing, normalizing, and enriching data to ensure accuracy
Utilize effective tools for KPI management, variance, and overall business intelligence
Setting targets and objectives and measuring to them frequently
Utilizing KPIs, sub-KPIs, and influencers to quickly perform root cause analysis of variance to plan
Review KPIs frequently to mitigate the impact of non-compliant variance
Align stakeholders to common objectives
Prioritize spend optimization strategies to align with priorities
These actions often produce the best results and provide a strong summary of the success that shippers can find with a solid KPI and analytic strategy.
Good luck on your KPI and analytic journey – it certainly is a worthy endeavor.
Steve Beda is Executive Vice President of Client Solutions at Veraction, the leader in Transportation Spend Management solutions. Veraction combines industry leading cloud based applications with best in class services to help companies realize savings, visibility and control of their transportation spend across all transportation modes. Steve can be reached at steve.beda@veraction.com.