To be honest, I am in awe of UPS.
They execute with the precision of a Swiss watch.
They plan, and then they make the magic happen.
In anticipation of extraordinary Christmas volume, they treated the incoming bubble with an amazing variable cost model.
They rented storage PODS as temporary delivery nodes.
They rented golf carts and small trailers to make their rounds
They used a rented straight truck to feed the volume from the UPS terminal to the POD.
And they hired temporary employees who worked about 10 weeks, and from what I understand are not eligible for unemployment benefits now that they are no longer needed.
It was fascinating
On or about November 11 2015 the First POD arrived at the entrance to my community
November 17th a second was delivered.
November 18 someone came to inspect.
November 25 Deliveries are happening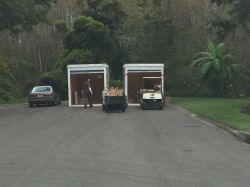 December 4 things are really busy
January 12 the PODS are gone and no evidence UPS had been here for two months.
UPS announces 4th Quarter earnings on Feb 2. Let's see how the plan helped or hurt them reach their objectives.